Music and sounds that surround you while at work can help or hinder your productivity. Check out a new option that can help you out no matter location!
Work music has been popular in the past and now a growing trend is turning to relaxing sounds to improve focus and mask out unwanted noises in the workplace.  The modern open-plan workplace can be a noisy, extremely distracting, and sometimes stall productivity. According to a 2015 study conducted by researchers at Rensselaer Polytechnic Institute, playing sounds stemming from nature could help improve worker moods and boost cognitive abilities in addition to providing much-needed privacy.
Some offices opt to use custom designed white-noise producing systems instead of work music to make conversation unintelligible beyond a certain distance and to minimize interruptions that may disturb workers.
"If you're close to someone, you can understand them. But once you move farther away, their speech is obscured by the masking signal," explains Jonas Braasch, an acoustician and musicologist at New York's Rensselaer Polytechnic Institute.
While this strategy might be better than nothing, the go-to electronic signal noises have remained the same for decades.
Based on psychophysical data and a sound-field analysis, Braasch and his team hypothesized that using "natural" sounds as masking sounds have the ability to meet the standards and criteria for speech privacy while also improving cognitive functioning, optimizing the ability to concentrate, and increasing overall worker satisfaction.
During the study, twelve human participants were exposed to three different sound stimuli while performing a task that required a high level of concentration. Typical office noises with the conventional random electronic signal, a "natural" soundscape masker, and an office soundscape with no masker were all utilized.
The natural sound used during this experiment mimicked a mountain stream. Those who heard this soundscape were shown to regain focus much faster than those who heard either the machine-generated white noise or were exposed to just silence. Although no difference in the participants' cognitive performance was discovered between the typical white noise and the natural sound, half the subjects said they preferred the flowing water sound. It appears the mountain stream sound was randomized enough to prevent distraction while the subjects worked to complete their objective.
Braasch believes using natural sounds as a masking signal could be beneficial and applied to locations beyond the office environment, such as hospitals.   Many people prefer listening to relaxing sounds over work music.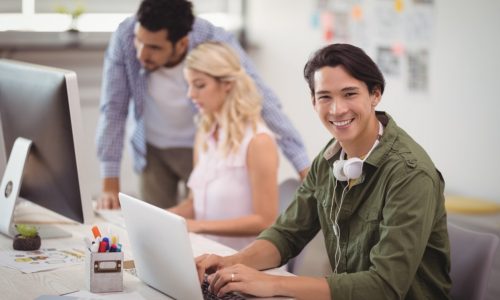 So how can you use these finding to improve your own situation and work environment? Instead of spending time trying to track down the right nature sounds via a standard streaming service or YouTube, you may want to turn to a different source altogether.
Meet Endel, a mobile app created by a Berlin-based team of artists, developers, and scientists, generates real-time personalized sound environments to enhance focus, relaxation, and sleep. This recently released tool is now available for iOS users worldwide and empowers its user to ease the mind, minimize distractions, and help create a more relaxed environment. The app's sound engine incorporates specially tuned noises to make distracting sounds and harsh interruptions less audible through sound masking.
After choosing one of four different sound modes: Sleep, Relax, Focus, and On-the-Go, Endel produces a soothing and physiologically natural soundscape, which adapts real-time to a number of personal inputs like location, time zone, weather, and heart rate. The app works on the basis that sound has a direct impact on our physiological and psychological well-being. This revolutionary technology generates algorithm-powered, personalized soundscapes that help calm the mind, minimize daily distractions, and prevent brain fatigue.
Endel's sound engine is also designed to eventually be integrated into various technologies and public infrastructures such as airports or hotels, as well as office and co-working spaces. Download this useful productivity partner for yourself at the App Store here or via the button below.