Relaxing sounds to help you sleep may be just what you need to wake up feeling reinvigorated! Check out five helpful playlists here!
Looking for relaxing sounds to help you sleep? As you may already know, not getting enough quality zzz's can lead to a multitude of issues such as cardiovascular diseases, visual impairment, diabetes, depression, and fluctuations in hormone function. If you find yourself extremely tired during the day, yawning frequently, and becoming easily irritated, you are probably running on an inadequate amount of sleep. Of course each individual has their own personal needs based on factors like activity level, health status, and stress.
Relaxing Sounds to Help you Sleep
To combat sleeplessness, there is no need to shell out a ton of money for a traditional white noise machine or spend time scrolling though YouTube for the right sleep soundtrack. A solution is closer than you think and recent technological advancements have given us drastically more sophisticated options.
Specially curated playlists and sleep albums have become an accessible solution for many seeking better quality rest. This series of five sleep-promoting playlists were created by Endel, a sound technology that generates real-time personalized soundscapes to enhance sleep, relaxation, and focus. Endel's core algorithm is based on circadian rhythms, pentatonic scale, and sound masking. The globally available iOS app was created by Berlin-based team of artists, developers, and scientists. These playlists feature scientifically proven and expertly crafted sleep sounds to help you enjoy the benefits of restorative slumber.
Preview the Clear Night, Cloudy Night, Rainy Night, Foggy Morning, and Cloudy Afternoon playlists via Apple Music below! 
Relaxing Sounds to Help You Sleep: Clear Night Preview
Relaxing Sounds to Help You Sleep: Cloudy Night Preview
Relaxing Sounds to Help You Sleep: Rainy Night Preview
Relaxing Sounds to Help You Sleep: Foggy Morning Preview
Relaxing Sounds to Help You Sleep: Cloudy Afternoon Preview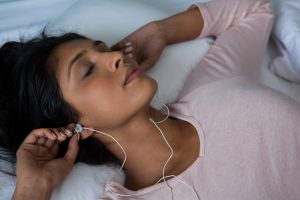 In addition to this series of playlists, Endel has also developed an
iOS mobile app
which generates real-time personalized sound environments to enhance focus, relaxation, and sleep. This recently released tool is now available for iOS users worldwide and empowers its user to ease the mind, minimize distractions, and help create a more relaxed environment. The app's sound engine incorporates specially tuned noises to make distracting sounds and harsh interruptions less audible through sound masking. After choosing one of four different sound modes: Sleep, Relax, Focus, and On-the-Go, Endel produces a soothing and physiologically natural soundscape, which adapts real-time to a number of personal inputs like location, time zone, weather, and heart rate.
Improve your sleep and download this personalized companion for yourself at the App Store here or via the button below!