Adding peaceful studying music into your routine might just be what you need to improve your ability to focus and concentrate longer!
Stressed out and looking for peaceful studying music to help you find your groove while hitting the books? Think about incorporating scientifically proven sounds into your routine to easily boost your ability to focus, relax, and concentrate.
Experiments have shown that the human brain prefers a specific spectrum of musical properties when it comes to actions such as the urge to dance, so it's no big surprise that the mind also desires specific auditory input during purely mental activities such as reading.
The human brain can be thought of as having two different attention pathways: conscious and unconscious. The conscious system allows us to direct our focus towards a certain task while the unconscious system pulls in messages from our senses. While our conscious attention is totally engrossed in a specific undertaking, our unconscious attention system is still preoccupied with our surroundings and easily distracted. Having your concentration broken repeatedly by different stimuli can be extremely annoying and put a real damper on studying.  Using peaceful studying music and channeling specific sounds can help you push back against unpredictable disruptions by taming your unconscious responses.
A study conducted by Rensselaer Polytechnic Institute points to music made up of natural sounds as being the most helpful in helping your brain power through work while also blocking out distractions. Sounds derived from nature, such rainfall and a rushing river, act as white noise that promotes better focus. These soothing sounds can also help you ward off feelings of unease, which is especially important when exams and project deadlines are looming. Experiment with a variety of peaceful studying music and sounds to find what works best for you.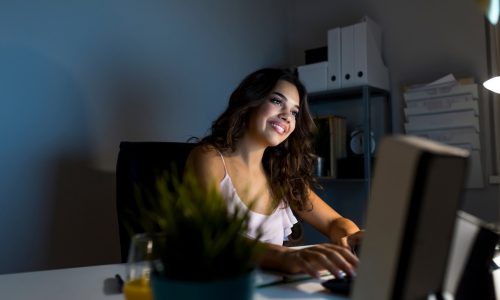 While creating your own peaceful studying music playlist before sitting down to go over class notes can be helpful, it also is time-consuming picking out just the right tunes. You have enough going on, so why not let a team of experts do all the hard work?
Peaceful Studying Music & Sounds for You
Endel, a recently released iOS mobile app now available worldwide, could be your best new study companion. This revolutionary tool was developed by a Berlin-based team of artists, developers, and scientists who understand the connection between sound and our well-being in terms of our heart rate, blood pressure, and state of mind.
Users are given the option to select from four different sound modes based on their personal needs—  Focus, Relax, Sleep, and On-the-Go. The app then automatically generates a distinct natural soundscape, which also adapts real-time to a number of personalized inputs such as location, time zone, weather, and heart rate.
Its sound engine was created using specially tuned noises to make distracting sounds and harsh interruptions less audible through sound masking. Perfect for blocking out distractions that can disrupt your study session and cause frustration. Focus mode in particular promotes productivity by helping you concentrate for longer periods of time. As shown in a survey of Endel users, respondents reported a 2.7x increase in ease of concentration and a 6.3x increase in concentration overall plus a 5.5x involvement increase.
With Endel, the power of sound is used to align your mind and body to any task or goal— including rocking out academically. Test it out for yourself by downloading Endel here or via the button below.